Thank you for requesting your FREE All Inclusive Planning Guide. I've been a travel agent for over 20 years and this concept of having all your meals, drinks and activities bundled together for one price is getting more popular year after year!
All resorts look great on the internet, so how do you know which one to choose? I will listen to you and your priorities in a vacation and then provide you my feedback and recommendations. You will appreciate my knowledge and expertise and my ability to choose the perfect resort for you!
I've put together a list of my favorite All Inclusive resorts for families and couples. This is based on my experience as well as the recommendations and feedback from my clients. I included links to each resort if you would like more information:
Familes: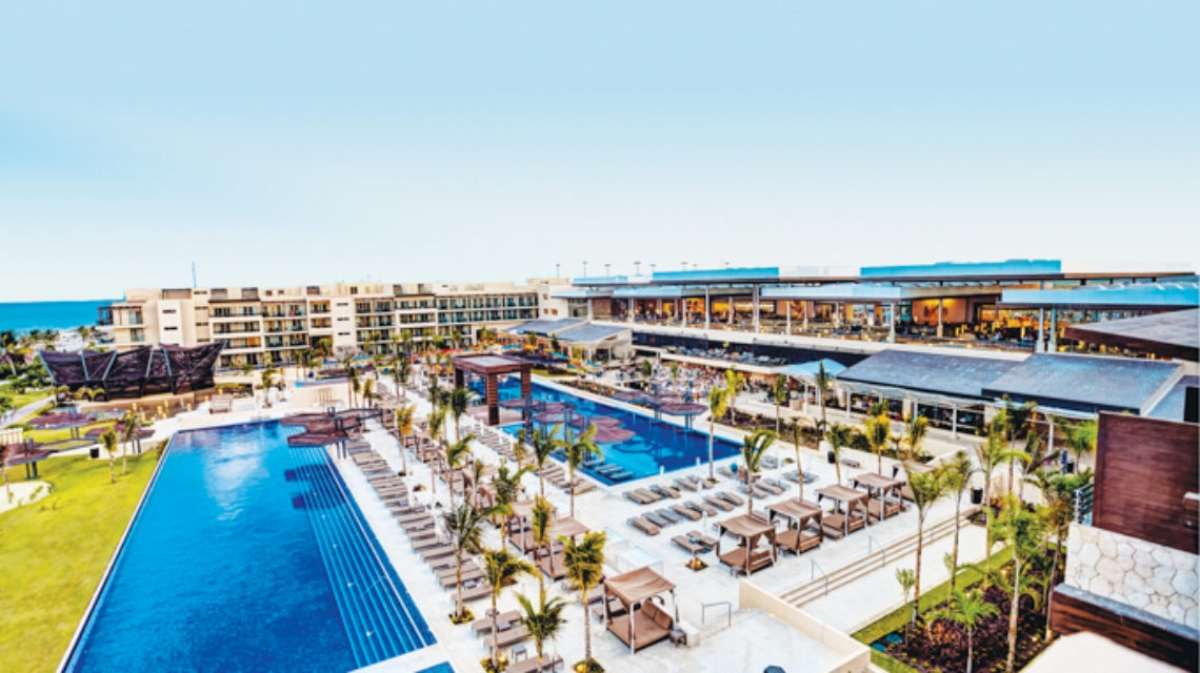 Here is a handy PDF that talks about all the options for all inclusive resorts in Mexico, Caribbean and Latin America:
Top Tips for Planning an All Inclusive Vacation
Research resort, find out what they have to offer. That way you don't miss out on anything. Many all inclusive resorts offer free use of their canoes, kayaks and boogie boards. Some offer resort credits so make sure you are aware what is included in your package.
Tips are included. All inclusive resorts include gratuities but it always a good idea to tip your transfer company, bellman, bartender and server. Its not mandatory but greatly appreciated!
Find out what currency the resort accepts. Some resorts don't accept USD and Canadian cash. Go to the bank and pull what you need before hand to avoid ATM charges. If you do need cash while on your trip the best place is to go to a bank ATM, not a 3rd party machine.
Bring your own OTCs. Pack Tylenol, Aspirin, Advil, and stomach-aids (Pepto, Tums and Immodium). This is can be very expensive if you need to buy it at the resort. Don't forget Benedryl or another antihistamine, in case you have a surprise reaction.
Pack appropriate dress attire for the a la carte. Check the website to see what the dress code is or you can always check with me. Some places require long pants and a long-sleeved shirt for men. Some resorts say they require a dress code, but are lenient once you get there. Don't assume that is the case, pack at least one semi-formal outfit.
Check to see if you have to book the a la carte ahead of time. If you do, book the moment you check in. That way you can experience the dining that is offered and won't have to be wait listed.
Look up the resort on Trip Advisor. Not only will you find the bad reviews to take into consideration but I recommend to look for resort tips. Experienced travelers will often find hidden gems, not just at the resort but in the neighborhood.
Pack your own sunscreen and bug spray. They are so expensive at the resort, I've seen $22USD for sunscreen and I have heard of up to $30 for bug spray.
Be prepared for the weather. Google the weather of your destination, if they're calling for rain – bring a rain coat and umbrella. Bring a light sweater for cooler evenings. Don't assume you'll have perfect weather because the photo on the website suggests so. Different times of season offer different types of weather. If it's sweltering hot, pack accordingly.
Make the most of it, whatever it is. This is the most important tip. If you're disappointed by the room or food, find something you do like and focus on that. Don't sit there and pout for a week because you don't like the outdated wall paper, you spent good money on this vacation – ENJOY IT.
Know before you go!
1.Read your travel documents!
It sounds so simple but I can't tell you how many times that something goes wrong in a vacation simply because the travel documents were not read thoroughly. There is so much information contained in them which is extremely useful while traveling. Don't just breeze through them, take the time to go through everything so you will know exactly what to expect during your trip.
2- Arrive at the airport early!
Again, sounds like a no brainer but make sure you are getting there AT LEAST 2 hours prior to departure. And if possible, print your boarding passes online within 24 hours of your flight just in case there are any issues at the airport. Arriving at least 2 hours prior will reduce your stress, you never know how long it is going to take to get through the security line and many airlines will deny boarding if you do not check in within 45 minutes of your flight.
I had clients a few years back that arrived at the airport 90 minutes prior to their flight and had not printed their boarding passes. They had issues taking care of this at the airport, arrived at the gate 10 minutes prior to departure and were denied boarding. They had to purchase new tickets to take a later flight and spent hours on the phone trying to fix it. I'm sure they learned their lesson now!!
3. Do not lose your Mexican Tourist Card
If you are traveling to Mexico, a Mexican Tourist Card and Customs Declaration Form will be provided to you by the airline. Both copies of this card must be filled out, signed and presented upon arrival in Mexico. A copy will be returned to you. Please safeguard this throughout your stay, as you will need it for your return flight. If you lose your tourist card, there may be a fee to replace it.
A few years back, I "misplaced" my card and it was a big pain in the butt to get a new one. They took me to a security room, asked me a bunch of questions and finally issued me a new one. I almost missed my flight so now I am very careful of where I put it.
I suggest that you take your card and put in in your passport and then put it in your hotel safe when you get to your room. I have never lost it since!
4. Pack wisely!
Many resorts have dress codes for their restaurants. The most strictest policies require men to wear long pants and sometimes jeans are not allowed. Sandals and tank tops may not be allowed either. Usually the resorts website will have this info but if you have any questions at all you can always contact me!
5. Common resort complaints:
-Insufficient chairs around the pool area or people getting up real early to "save" them- This does happen at some resorts
-No waiter service at the pools or beach- not all resorts have this service
-Housekeeping doesn't come every day- again all resorts are different and they may not come every day or they may come later in the day.
-Pools are cold- many of them are not heated except by the sun
-Had to pay a fee for a lost towel card- some resorts are very strict about their towel cards. Make sure you know their policy!
-Limited access to a la carte restaurants- some have a rule on this and a common complaint is that making reservations is difficult. You may be told the
restaurant is full and you are unable to make a reservation here but later walk by and see its half empty, VERY typical!
-Beach vendors- your resort may not be on a private beach
-All inclusive food is not high quality- hopefully this is not an issue at your resort!
- Items taken from the room- Make sure to use the safe for all your valuables!
-Spotty or bad Wifi: Most resorts only offer complimentary wifi in the lobby area and it may not be that good. Typically you can purchase wifi for your room if your resort does not offer it.
- No room service: Not all resorts offer room service or may have limited hours
Packing for you All Inclusive Vacation
Don't know what to pack for your all inclusive vacation? Here is a comprehensive list of all the musts to bring with you:
The Ultimate Beach Packing List
And finally, here is a complete list of items you should have in your carry on:
Th Ultimate Beach Carry on list:
Now you are ready to plan your all inclusive vacation! If this sounds perfect to you, please fill out the form below to get started so we can talk about what you are looking for. Whether it is honeymoon, destination wedding, a couples or friends getaway or a family trip, we can plan the perfect vacation for you!